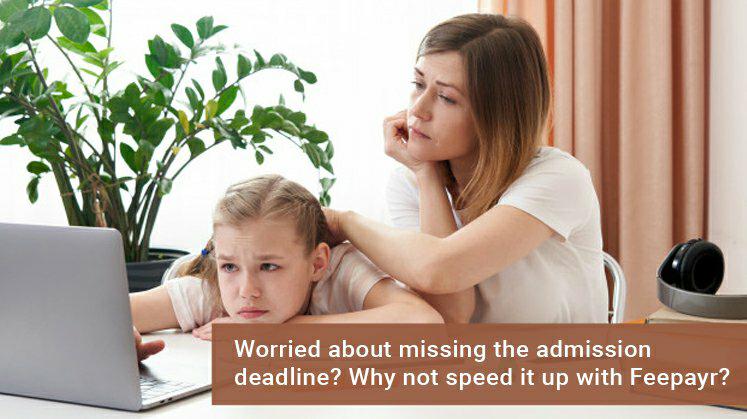 A smart online fee payment solution can counter delays
As you prepare your "to do" list for admission to the schools or colleges of your choice, you hear your better half or a wise parent say disapprovingly: "Aren't you cutting it a little fine?" You go through your list once again and it starts sinking in that you are indeed a tad late and may need to burn the midnight oil to secure admission to that dream school for your child. If you wish to gain admission to one of the finest colleges in your region, or country, you can't dash off a SOP or appear for an entrance test without preliminary research, thought and hours of diligent study.
The devil, as they say, is in the details. Certificates, mark sheets, identity documents, birth and transfer papers, guarantees, recommendations…you can't get it wrong! But, while it is essential to focus on the "how", you also cannot afford to neglect the "when" of your application. And one of the "little details" you cannot ignore is that one process that seals your application or completes your admission process: Fee payment.
In days past, fee payment was about handing over cash at a cash counter, after hours of standing in a long queue with other harried parents or students. While online fee payment is commonplace today, not all fee management systems have the same features and benefits.
If you really wish to focus on the "how" and "what" of your application, we recommend you go in for FeePayr – an online fee collection system so simple, it will make fee payment a cinch. FeePayr has been created to speed up payments, so you can focus on matters of greater importance.
Here is how FeePayr offers you the gift of speed so you can take those crucial admission deadlines in your stride, without feeling the strain:
✔ User-friendly features help you save on time: FeePayr's strength lies in its simplicity. To wire a payment via FeePayr, no complicated manoeuvres or mastermind is required. Designed for parents and students who belong to all strata of society, a simple log-in through the portal leads to the student's dashboard. The school fee or college fee demands for the student are displayed on the dashboard. In minutes and a few clicks, the student can complete his admission fee payment with a debit card, credit card, or net banking. The last minutes of the last date for submitting an admission application are good enough to wrap up this one key formality – admission fee payment!
✔ No nasty eleventh hour surprises: If you are VERY keen on joining a particular institute or getting your child into a certain dream school, you will leave no stone unturned to submit that perfect application. In all likelihood, you will be working till the eleventh hour, making sure you have forgotten nothing, dotting the i's and crossing the t's, working on the presentation and putting those finishing touches that will make your dossier stand out. You don't want last-minute hitches and nasty little shocks just when you are about to conclude the application process with online fee payment.Institutions that have chosen MasterSoft's Admission Management Software with FeePayr payment portal are, in fact, offering students a seamless experience. Often, moving from the Admission Management System to another payment portal could halt or interrupt the process of payment if there is no smooth transition from one system to the other. MasterSoft's Admission Management Software ✔– FeePayr integration is absolutely flawless and glitch-free.
✔ FeePayr keeps you posted on the latest: There could be modifications in your fee structure. Admission fees vary from one institution to another. A school or college registered with FeePayr is able to update parents or students regarding fees due on their dashboards. The candidate is also notified via SMS or email of any modification to the fee structure. Again, when students and parents are aware of admission charges in advance, they are prepared to meet their financial obligations. With no unpleasant surprises in store for them, they can submit their application with admission fees comfortably. Delays due to lack of financial preparedness can thus be avoided.
✔ Save time by paying on the go: The FeePayr app is 100% mobile responsive. The layout and content adapts perfectly to the mobile screen. This is a very practical feature, since you may wish to pay on the go to save a little time. FeePayr's mobile-responsive design creates a great user-experience for the candidate. The situation in which you are using the payment portal changes with the screen you are working on. If you are making a payment on a smartphone, the app design adapts to your slim screen, leaving out no essential information, while giving you the complete picture and an optimal experience.
✔ Don't waste time worrying about security: Security issues are likely to drive away parents not just from your webpage, but also from your institution. After completing all admission formalities, when a candidate transits to the final stage of the application, which is payment of the admission fee, she or he should not develop cold feet while entering account details or credit/debit card information. FeePayr, integrated with a cloud-based system education ERP system ✔, offers all possible security cover by following the Secure Sockets Layer (SSL) protocol. Finally, FeePayr has the best payment gateways, which are PCI compliant. With every student attributed a separate, secure log-in and transaction records and account details encrypted before being stored on the cloud, your financial information is protected in an iron-clad "e- strong room" , so you can relax and proceed swiftly with your college or school fee payment online, without a moment's hesitation. "Most of us spend too much time on what is urgent and not enough time on what is important", writes Stephen Covey in "The Seven Habits of Highly Effective People". He advises us to spend more time on what is important. FeePayr takes over the urgent tasks, so you can focus on what is important – sending in that perfect application…on time!