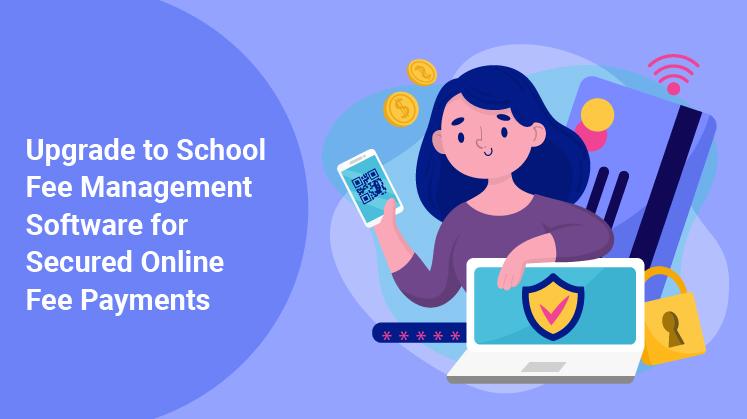 "Those times of transitions are great opportunities to look for recurring patterns in your life and make adjustments to build on the good and reduce the bad." - Dan Miller
During the phase when we decided to opt for digital marketing upgrade our educational institution's brand value, one of the questions asked by the digital marketing experts at the time of our online meet was –
"Is your institution providing online fee payment options to students for simplifying their hassle during COVID-19?"
Being the school administrator, I got stuck what to say or what not to say. The gentleman on the other side of the video call was asking questions from the perspective of making strategies to advertise. To be honest, we weren't using the online fee payment.portal, but the question that clicked me was – WHY? Why haven't we thought about it before?
I explained to him that we weren't but we will surely implement it in the future. I simply tried to dodge the question, but the truth was –I had no idea how to proceed for an e-payment facility to help students & parents pay school fees online.Moreover, online payments are risky. So, I had to make sure whoever school ERP software vendor I get in touch with, I need to prioritize the security of the online school fees payment app.
I took the help of Google & started exploring edTech options. Soon, I found a reputed e-payment school fee portal company. Fortunately, it was one of the leading online fee management software companies - FEEPAYR.Here, I am going to share my experience of successfully upgrading to a secure online school fees management system within a few months.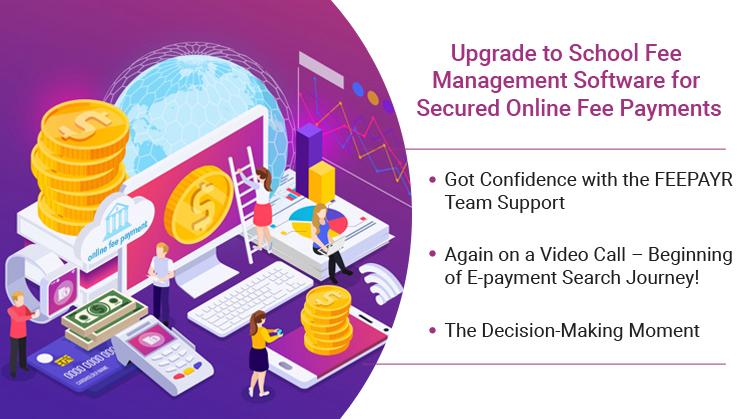 A. Again on a Video Call – Beginning of E-payment Search Journey!
This time, the video call was arranged with the team of FEEPAYR. After formal greetings, the team made me comfortable. The discussion went somewhat like this.
"What exactly are you looking for, Sir? Please tell us your expectations"
I went straight to the point and told them that I require an online fees management system that would ease the administrative hassles of the school as well as make the cashless payments easier for parents and students.
Without pausing for a second, they showed me their track record which was clearly advocating that their online school fee payment system software for paying fees was more than just another edTech system in the market! It was a completely secured fee payment portal with easy-to-understand GUI and compatible with both mobile and web.
B. Got Confidence with the FEEPAYR Team Support
My nervousness went away & I landed on the second most important question which was the cost-effectiveness of the online fees payment & collection software for an educational institution.
"Is it costly?" I asked.
They explained to me how my institution was spending so much effort & money on calculating, maintaining, and managing fees records of school students. I drew the conclusion that it was more expensive for me to utilize resources merely for administrative work. I realized that it was affecting their productivity on some level. For speeding up the operations with zero errors, cashless school fees management software was way cheaper than I was thinking! In fact, it could also remove the dependency on staff for crucial calculations.
C. The Decision-Making Moment
Now that I clarified the most imperative aspects,I wanted the team of FEEPAYR to answer a few simple questions
"Does it accept multiple modes of payment –like debit/credit cards, etc?"
"Apart from security, does it have a faster payment processing gateway?"
"Does it support password & one-time-password OTP verification?"
"Will you provide online support whenever we face any trouble?"
Their response was a big YES to all these questions!
Finally, the team asked me - "Do you have any doubts, Sir? Shall we proceed?"
There wasn't any moment of doubt left. I immediately sealed the deal. The rest is history. We are successfully collecting all sorts of school payments online including - School admission fees, registration fees, hostel fees, academic fees, miscellaneous fees, and much more.
For arranging a free online demo of top-notch school fees payment online software, get in touch with FEEPAYR today!