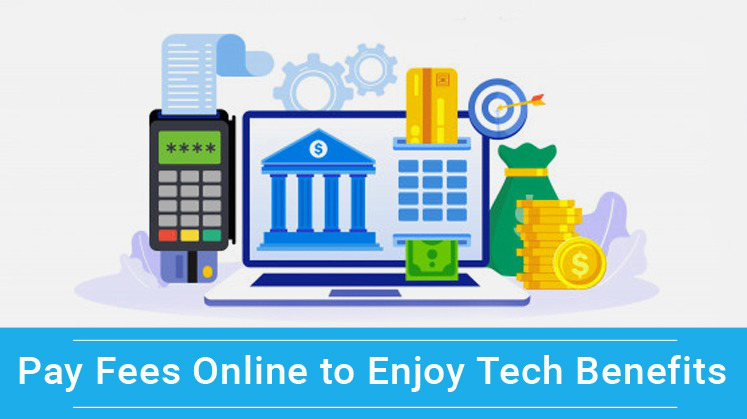 Going digital was never so easy! Advanced technology to go digital is now easily available and, if well chosen, can revolutionize lives and take businesses to the next level of growth. What applies to enterprise also holds true for educational institutions. Digital payments have changed the way parents and students relate to school administrations. The dreaded "fee payment day" in schools and colleges is now seamlessly integrated into the admissions process. A good online fee payment system can enable secure, quick and hassle-free transactions, on the go.
The technology of online fees payment apps brings with it numerous benefits. I am listing out the most significant here:
1. Secure mode of transfer: Security is paramount in money matters. No parent or student would tolerate loss of hard-earned money. We all know the risks associated with cash and cheques. Even in the case of DDs, the instrument may get stolen or forged or the DD may become invalid. The safest solution is a well-established, cloud-based school fees payment app or portal, which follows the Secure Sockets Layer (SSL) protocol. Here, your payment information is encrypted and stored on secure servers, which are inaccessible to hackers. You would also have the benefit of going through the best payment gateways that are Payment Card Industry (PCI) compliant. Apart from encryption, another layer of security is passkeys which allow only the student or parent who has the passkey/log in ID to access his/her account. Furthermore, role-based access to the financial information ensures that users of the portal are given very limited access, based on their role in the organization and the need to access specific details.
2. Speedy and convenient: Technology has blessed us with speed.Online fee collection technology is not just safe, but also one of the fastest and most convenient methods of paying fees. Factors that caused significant delays in fee payment in the past can be eliminated with good payment software. Handing over cash implied commuting to school, standing in long queues, taking leave from work, etc. For the school, it was the tedium associated with managing the rising tempers of harried parents/students, handling large amounts of cash, verifying cheque details for authenticity and correctness, maintaining records and balance sheets. Today, if you have a good payment system, your student data and fee parameters can be uploaded or entered online rapidly, even from excel sheets. Students can log in from the comfort of their homes, check what they owe to the school, view all modifications to the fee amount, pay fees in installments (some advanced portals even allow that), get an e-receipt and sleep easy know that their money is being directly deposited in the institution's account.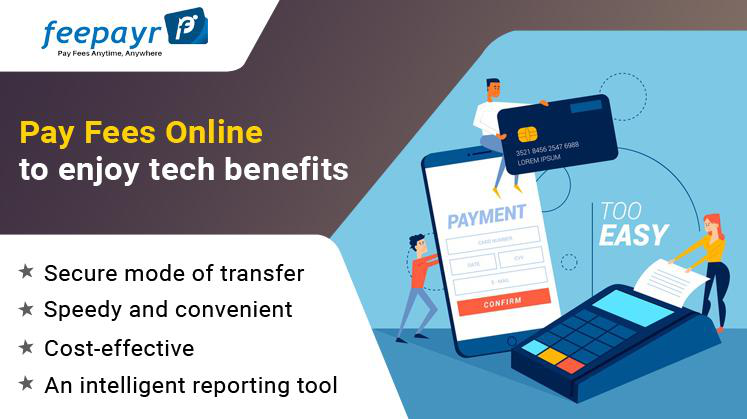 3. Cost-effective: Stationary, bills, receipts, infrastructure, human resources…manual fee payment costs the earth, to say nothing of the time and effort involved in cash or cheque collection, handling large amounts of cash and keeping track of payments. On-premise systems also consume a lot of power with their high cost servers, UPS, computers, printers, etc. The technology behind a good cloud-based system 3.can make the difference here, since it stores all student and fee data on the cloud in full security and users are granted very limited access to the data, with their role-based login passwords. For parents too, the cost of paying fees in person is significant, and vastly inconvenient.
4. An intelligent reporting tool: You can expect another hi-tech surprise from a good payment system. Some sophisticated systems are endowed with analytics dashboards. These dashboards are powered by business intelligence and have the capacity to auto-generate reports. Reports required routinely for audit and accounting purposes, or even to make high-level decisions, can be made available by the ERP at the click of button. Daily collection registers, challan generation, student records, student ledgers, transaction reports and more can be generated by the system in a clear, graphical format. When the management seeks specific information on a certain payment, or would like a report on inflows from a certain category of students, the ERP would present the report with great precision and speed. This feature can empower the management to reach timely, data-driven, informed financial decisions that could be of critical importance to the institution.
Thus, the benefits of technology are multiplied when the best possible technology is chosen to pay fees online. Better features would mean easier, smoother, faster, safer transactions. There is technology today, built into fee payment software, that allows for push notifications to parents so they may be alerted if fees are due or there is a modification in the fee structure. There is also the possibility of managing leads and admissions through this software. Students can fill the admission form online, upload his/her photo and signature and update the information whenever needed.
If parents or schools desire a practical, friendly, glitch-free user experience when paying or receiving fees, the online fee payment system is the best option. Both payer and payee can enjoy its multiple benefits and, most importantly, enjoy the time and energy thus freed up to do the things that matter to them the most.