Remember your hairstyle when you were a 5th grader?
Do you still have the same taste?
I can bet you don't!
Clothing style, movies, books, food, & even the human thought process – Outgrowing things is a natural cycle. Sometimes it happens by choice & sometimes it happens out of necessity. When outgrowing happens out of necessity, it brings a plentitude of benefits to the table. I have witnessed institutions that were strictly following the traditional methods of work, have now taken the route of automation. Having faith in the "change-game", every leading edTech institution is transitioning towards digitalization. They've understood that being stuck into a similar arena for a long time can't help them grow.
If you too are an educator & feel that manual work processes in your school, especially the fee payment & collection has outgrown & you are in search of an online fee payment system for streamlining the administrative tasks, do read out this article. I will guide you on how the touch of technology in schools can create a huge impact.
Where Do I Start?
We have filtered out the top 5 considerations that will help you decide which School ERP
Package is right for you in terms of handling e-payments…
1. Do a Research for bullseye View
When we try to upgrade things by adopting new technology, we might fall into the pitfall of challenges. Therefore, I suggest, first of all, you should try doing market research of your competitors. Observe & learn what the top players in the education sector are doing. Take note of the shortcomings they faced initially & also, what measures they did to overcome them. Make a list of features that you'd want to add in your personalized fee payment & collection system. Refine your list by prioritizing the features from most important to least important. It will help you crack a good deal with an ERP service provider in the future.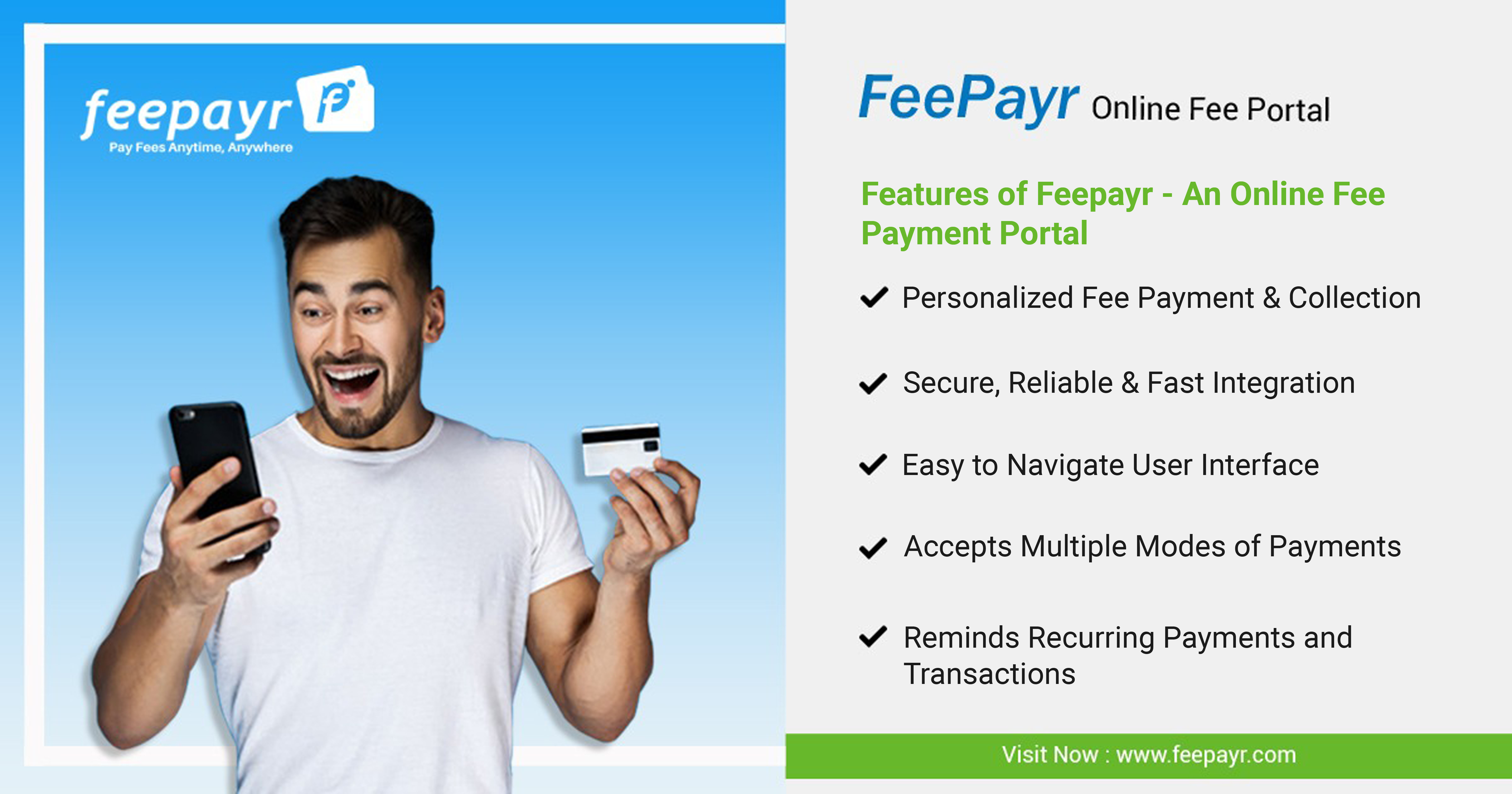 2. Simple, Simpler, Simplest Interface
On a scale of 1 to 10, how should your users rate their experience?
What kind of reviews do you want to see on 'Google'?
Everything depends on a simple aspect – Your cashless e-payment for school should be extremely simple to understand. Therefore, think from a user's perspective & implement what they'd love to use! Your system should be helpful for the users & not a new reason for headache!
3. Secure, Reliable & Fast Integration
There's already a myth that is believed to be true by a massive range of parents that cashless transactions are subjected to monetary frauds & risks. Please don't give them a reason to believe it. Your e-payment portal must be integrated with highly secured & safety features. It should provide a fast & hassle-free experience
You can add SSL certificate on the web portal, integrate best payment gateway & cloud servers with multiple backups & surely have a back of reputed educational ERP provider. No data or monetary transaction should go wrong. Even if there's some technical issue with the portal, you must have a team to ensure 24*7 technical support & assistance.
4. Acceptance of Multiple Modes of Payments & Currencies
Mode of payment matters a lot. If you restrict your school fee payment online portal to a particular mode then it may not bring a great user experience. You must enable multiple payment modes such as debit/credit/PayPal/any other mode to ensure that parents or students from any corner of the world can carry out e-transactions with ease. Also, it should give them an option to convert their currency into local money while sending the pupil's fee.
5. Recurring Payment Reminders & Transactions
For recurring payments, such as monthly computer lab fee or sports fee, you must integrate automated reminders in the system. These automated reminders will remind parents from time-to-time regarding the upcoming fee transactions. If you want to rise one step higher, seek out an automated debit transaction option. It will allow parents to automate the fee which is constant throughout the year & needs to be paid at a certain interval.
Additional Tip: Your online fee collection software must be equipped with the provision of generating & sending e-receipts to parents on their personal Id or Phone Number after every transaction. Parents need not go to the bank to check out their balance.
Your institution will certainly garner appreciation from the parents.
To Sum Up
You need to focus on the following points while selecting online fee payment & collection software.
Think about how to stand out from the competitors.

Research, observe, conclude & implement what'll stick out to common non-tech savvy users.

RMake sure the portal is secured & has provisions that resonate with the mindset of parents.
That's it. You're sorted! For any further assistance on e-payment software for schools, get in touch with us!